It is banana time and I was just looking through the "
Granny Rosa
" cookbook for Christine's Banana Bread Recipe.
CHRISTINE'S BANANA BREAD
Oops, we enjoyed the bread so much, we nearly forgot to photograph it.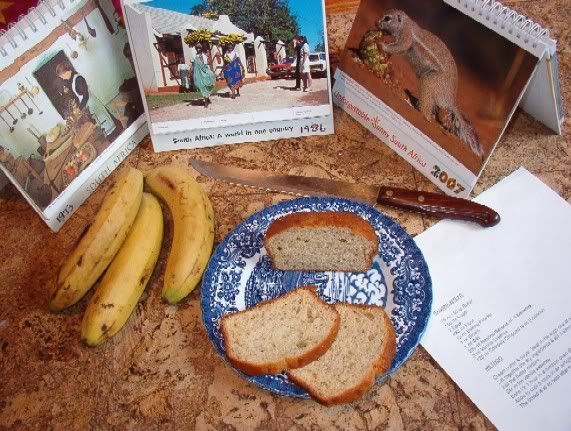 250 ml Mashed Banana +/- 4 Bananas
125 ml Coarsely Chopped Nuts (Optional)
METHOD

Cream butter & sugar. Beat in the eggs one at a time.
Sift together the dry ingredients & stir it alternately with the mashed banana into the butter mixture.
Stir in the vanilla essence
Bake for 1 hour in a medium oven @ 180 C.
Allow to cool & store in an airtight tin.
The bread is at its best after third day.
Here are links to other Internet kitchens for similar recipes
=============================================================
Last but not least